Nickel Alloy
---
Nickel Alloy

Bars
ASTM B160 Nickel Round Bars, Nickel Bright Bar, Nickel Round Bar, Nickel Bar, Nickel Alloy Rods Manufacturer, Supplier & Exporters in Mumbai, India
Nickel Alloy 200 Bars, Nickel Alloy 201 Forged Bars, Nickel UNS N02200 Hex Bar, Nickel UNS N02201 Polished Bars, Nickel Alloy Black Bars, Nickel Square Bar, Nickel Round Bars Stockists
Sunflex Metal Industries is one of the top Nickel Alloy Bars Manufacturer, supplier and exporter that are also made using high quality raw materials which has a variety of applications Including Industrial, Structural and Architectural.

Nickel Alloy Rods lend themselves to a very wide range of end applications, owing to its inherent catalytic properties. Nickel Alloys has excellent oxidation and corrosion resistance and give a reliable performance at adverse conditions. Nickel Alloys bars have a high melting point and high ductility. Every type nickel alloy bar has different performance and applications. Nickel round bars possess outstanding resistance to oxidation, corrosion, and alkaline substances. Due to its excellent durability, it is widely used in applications involving adverse environmental conditions.
Nickel 200 Round Bars can be easily welded so they are widely used in applications involving high and low temperature. They show good mechanical properties and ductile properties in extreme conditions. Nickel 201 Round Bars exhibits outstanding resistance to most corrosive and caustic environments, media, alkalis, and acids. Nickel Alloys forged Bars possess good mechanical properties making them useful in aerospace, rocket motors, space shuttles, spacecraft, nuclear reactors, turbo pump seals, tooling and pumps. 
Contact us to get quality Nickel Alloys bars as per your requirements and specifications at a reasonable rate. We are always here to deliver our quality products and satisfy you with our service.
Nickel Round Bars, Nickel Hot Rolled Round Bars, ASTM B160 Nickel Alloy Threaded Bars, Nickel Alloy Flat Bars Exporter in India
Nickel Bars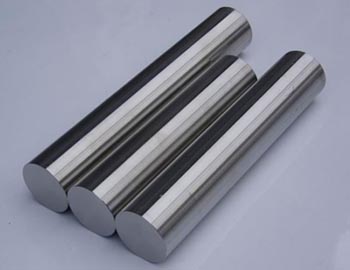 Nickel Alloy Bars Specifications
Standard specifications for Nickel Alloy Bars. If any specification is not mentioned here, you can contact us. We also manufacture and export any custom specification as per clients requirement.
| | |
| --- | --- |
| Specifications | ASTM B160 / ASTM SB160 |
| Dimensions | EN, DIN, JIS, ASTM, BS, ASME, AISI |
| Size | 5 mm To 500 mm |
| Diameter | 0.1 mm to 100 mm |
| Length | 100 mm To 3000 mm Long & Above |
| Finish | Black, Bright Polished, Rough Turned, NO.4 Finish, Matt Finish, BA Finish |
| Tolerance | H8, H9, H10, H11, H12, H13K9, K10, K11, K12 or as per clients' requirements |
| Form | Round, Square, Hex (A/F), Rectangle, Billet, Ingot, Forging Etc |
Types of Nickel Alloy Bars
| | |
| --- | --- |
| Nickel Alloy Slip on Bars | Alloy Weld Neck Bars |
| ASME SB160 Nickel Round Bars | Nickel Alloy Square Bars |
| Nickel Alloy Hexagonal Bar | Nickel Flat Bar |
| Nickel Rectangular bars | ASME SB160 Nickel Alloy Hollow Bars |
| Nickel Alloy Oval Bars | Nickel Bright Bars |
| Alloy Black Bar | Nickel Alloy Forged Bar |
| Nickel Alloy Rods | ASTM B160 Nickel Alloy Polished Bars |
| ASTM B160 Nickel Threaded Bar | Nickel Alloy Forged Bar |
Nickel Alloy Bars Price List
Sunflex Metal Industries is one of the most competitive suppliers of Nickel Alloy Bars from India. Our prices for Nickel Alloy Bars are very competitive. Please click on the request a quote button or click here to request the updated price list and ready stock information along with your requirement. Sunflex Metal Industries maintains a stock of all standard items and can export them at the best price for Nickel Alloy Bars.
ASTM B160 Nickel Alloy Bars - Industries & Applications
Our Bars & Rods are used in a wide range of applications and various industries. Below are a few of them:
Gas Processing Industries
Petrochemical Industries
Power Generation Industries
Food Processing Industries
Chemical Industries
Oil & Gas Industries
Fertilizers Industries
Paper Industries
Stock Availability Nickel Alloy Bars
We maintain huge inventories of all standard sizes and grades. Please send us your complete requirement and we will send you the availability with the best quote for Nickel Alloy Bars.
Click to send your requirement.
Why Buy Nickel Alloy Bars from Sunflex Metal Industries
Sunflex Metal Industries is a leading stockist, distributor, and supplier of Nickel Alloy Bars from India. With more than three decades of experience, we understand the steel industry deeply. We have huge experience of supplying to all major industries across the world. Our team of dedicated experts with stringent quality policy ensures that we supply best-in-class products meeting and exceeding our client's expectations. Below are a few quick points about why buying from Sunflex Metal Industries will give you an undue advantage:
Huge inventory of all standard sizes and grades.
Distributors of all reputed origins and manufacturers.
Strict quality control policies and highly experienced team.
Strong logistics & delivery channels.
Modern Infrastructure with huge storage capacity.
An ISO 9000:2015 Certified Company.
Send us your Enquiry
Prominent Countries where we Export Nickel Alloy Bars
Exporting Pipe to Singapore, Malaysia, Hongkong, Thailand, Indonesia, Taiwan. Other countries includes  Afghanistan, Albania, Andorra, Austria, Bahrain, Bangladesh, Bhutan, Brunei, Belarus, Belgium, Bulgaria, Cambodia, China, Cyprus, Croatia, Czech Republic, Denmark, Estonia, Egypt, Finland, France, Germany, Greece, Georgia, Hungary, Iceland, Ireland, Italy,  Iran, Iraq, Israel, Japan, Jordan, Kazakhstan, Kuwait, Kyrgyzstan, Lebanon, Latvia, Latin America, Liechtenstein, Lithuania, Luxembourg, Malta, Moldova, Monaco, Maldives, Mongolia, Myanmar (Burma), Nepal, North Korea, Netherlands, Norway, Oman, Poland, Portugal, Pakistan, Palestine, Philippines, Qatar, Russia, Romania, Russia, San Marino, Serbia and Montenegro, Slovakia, Slovenia, Spain, Sweden, Switzerland, Saudi Arabia,  South Korea, South Africa, Sri Lanka, Syria,  Tanzania, Tajikistan, Thailand, Turkey, Turkmenistan, Ukraine, United Kingdom, United Arab Emirates (UAE), Uzbekistan, Vietnam, Yemen.
We are one of the top:
Nickel Alloy Bars exporters to Singapore
Nickel Alloy Bars exporters to Malaysia
Nickel Alloy Bars exporters to Hongkong
Nickel Alloy Bars exporters to Thailand
Nickel Alloy Bars exporters to Indonesia
Nickel Alloy Bars exporters to Taiwan