Copper & Copper Alloys
---
Cu-Ni 70/30

Saddle
Cupro Nickel 70/30 Saddle, UNS C71500 Saddles, 70/30 Copper Alloy Saddle, Werkstoff Nr. 2.0872 Saddles Pipe Fittings Manufacturer, Supplier & Exporter in Mumbai, India
Sunflex Metal Industries is one of the eminent manufacturers, suppliers and exporters of Copper Alloy Saddle Fittings.  Our products are a perfect blend of Quality, consistency and reliability which has made our products most trusted and specified all around the industry. Our corporate motto is to save customer time and money and provide best products according to customer specifications.
Cu-Ni 70/30 Saddles have high durability and excellent performance in any industrial applications. It possesses good toughness and strength, Electrical conductivity, Corrosion resistance, Heat transfer, Structural capability, and Aesthetic appeal. Due to its high thermal resistance, it can survive adverse weather conditions. The presence of small amount of iron and manganese make Cu Ni 70/30 Saddles almost entirely resistant to stress corrosion and has slightly improved strength as compared to Cu Ni 90/10 saddles. 
Cupro Nickel 70/30 Saddles are generally used in applications involving high-velocity polluted seawater such as in chemical and desalination industries for Condensers, Boiler Parts, Propeller Sleeves, Heat Exchanger Parts, and so on.  Another common use of these is in electrical industries in high current and control systems for low voltage distribution.  Since it possesses may exceptional features and hence are suited to a range of different applications.
 We offer products which are accordance with various industries standards and well tested to ensure safety of our client. We are always here to deliver our quality products and satisfy you with our service. Feel free to call us or mail us your queries.
Cu-Ni 70/30 Saddle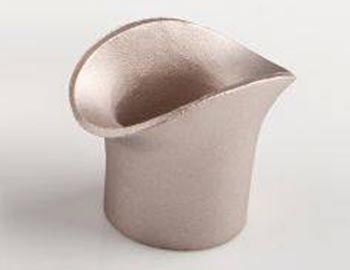 Cu-Ni 70/30 Saddle Specifications
Standard specifications for cupro-nickel Cu-Ni 70/30 Saddle. If any specification is not mentioned here, you can contact us. We also manufacture and export any custom specification as per clients requirement.
| | |
| --- | --- |
| Specifications | ANSI, ASME, JIS, DIN, EN1092, GOST |
| Size | 1/2″-48″ |
| Wall Thickness | 2mm-25mm |
| Material | Carbon steel and stainless steel |
| Surface finish | Electroplated, powder coated and hot dip galvanized |
Chemical Composition of Cu-Ni 70/30 Saddle
| | |
| --- | --- |
| Element | Cu-Ni 70/30 |
| Cu | 65.0 min |
| Pb | 0.05 max |
| Mn | 1.0 max |
| Fe | 0.4-1.0 |
| Zn | 1 max |
| Ni | 29 – 33 |
Cu-Ni 70/30 Saddle Mechanical Properties
| | |
| --- | --- |
| Element | Cu-Ni 70/30 |
| Density | 0.323 lb/in3 at 68 F |
| Melting Point | 2260 F |
| Yield Strength (0.2%Offset) | 20000 psi |
| Tensile Strength | 50000 psi |
| Elongation | 30% |
Cupro Nickel 70/30 Saddle Equivalent Grades
| | |
| --- | --- |
| STANDARD | Cupro Nickel 70/30 |
| UNS | C71500 |
| WERKSTOFF NR. | 2.0882 |
70/30 Cu-Ni Saddle Price List
Sunflex Metal Industries is one of the most competitive suppliers of Saddle from India. Our prices for Cu-Ni 70/30 Saddle are very competitive. Please click on the request a quote button or click here to request the updated price list and ready stock information along with your requirement. Sunflex Metal Industries maintains a stock of all standard items and can export them at the best price for Cu-Ni 70/30 Saddle.
Cu-Ni 70/30 Saddle - Industries & Applications
Our Saddle are used in a wide range of applications and various industries. Below are a few of them:
Gas Processing Industries
Petrochemical Industries
Power Generation Industries
Food Processing Industries
Chemical Industries
Oil & Gas Industries
Fertilizers Industries
Paper Industries
Stock Availability of Cu-Ni 70/30 Saddle
We maintain huge inventories of all standard sizes and grades. Please send us your complete requirement and we will send you the availability with the best quote for Cu-Ni 70/30 Saddle.
Click to send your requirement.
Why Buy Cu-Ni 70/30 Saddle from Sunflex Metal Industries
Sunflex Metal Industries is a leading stockist, distributor, and supplier of Cu-Ni 70/30 Saddle from India. With more than three decades of experience, we understand the steel industry deeply. We have huge experience of supplying to all major industries across the world. Our team of dedicated experts with stringent quality policy ensures that we supply best-in-class products meeting and exceeding our client's expectations. Below are a few quick points about why buying from Sunflex Metal Industries will give you an undue advantage:
Huge inventory of all standard sizes and grades.
Distributors of all reputed origins and manufacturers.
Strict quality control policies and highly experienced team.
Strong logistics & delivery channels.
Modern Infrastructure with huge storage capacity.
An ISO 9000:2015 Certified Company.
Prominent Countries where we export Cu-Ni 70/30 Saddle
Exporting Saddle to Singapore, Malaysia, Hongkong, Thailand, Indonesia, Taiwan. Other countries includes  Afghanistan, Albania, Andorra, Austria, Bahrain, Bangladesh, Bhutan, Brunei, Belarus, Belgium, Bulgaria, Cambodia, China, Cyprus, Croatia, Czech Republic, Denmark, Estonia, Egypt, Finland, France, Germany, Greece, Georgia, Hungary, Iceland, Ireland, Italy,  Iran, Iraq, Israel, Japan, Jordan, Kazakhstan, Kuwait, Kyrgyzstan, Lebanon, Latvia, Latin America, Liechtenstein, Lithuania, Luxembourg, Malta, Moldova, Monaco, Maldives, Mongolia, Myanmar (Burma), Nepal, North Korea, Netherlands, Norway, Oman, Poland, Portugal, Pakistan, Palestine, Philippines, Qatar, Russia, Romania, Russia, San Marino, Serbia and Montenegro, Slovakia, Slovenia, Spain, Sweden, Switzerland, Saudi Arabia,  South Korea, South Africa, Sri Lanka, Syria,  Tanzania, Tajikistan, Thailand, Turkey, Turkmenistan, Ukraine, United Kingdom, United Arab Emirates (UAE), Uzbekistan, Vietnam, Yemen.
We are one of the top:
Saddle exporters to Singapore
Saddle exporters to Malaysia
Saddle exporters to Hongkong
Saddle exporters to Thailand
Saddle exporters to Indonesia
Saddle exporters to Taiwan