Stainless steel
---
310/310S

Pipes
ASTM A312 Stainless Steel Pipe, SS 310 / 310S Seamless Pipes, Austenitic Stainless Steel 310 – 310S Pipes, SS GOST 20Ch25N20S2 Pipes, SS UNS S31008 Welded Pipe Suppliers and Exporters
Stainless Steel 310 – 310S Seamless Pipes Exporter, Suppliers of ASTM A312 TP 310 – 310S SS Electropolished Pipes, SS UNS S31000 Welded Pipe, Stainless Steel Werkstoff NR. 1.4841 Pipe Manufacturer in India
Known to be one of the best Stainless Steel 310 / 310S Pipes Manufacturer & Suppliers, we have always made it our top priority to provide our clients with the best quality products. To make this successful, we stick to using the best kind of 310/310S Stainless Steel so that they retain their characteristics efficiently in the final product.
The 310/310S Stainless Steel variety is a kind of austenitic steel that finds its use specifically in working conditions including elevated temperature conditions as it provides excellent oxidation resistance to carburizing and reducing environments. We, Sunflex Metal Industries, have introduced ourselves as a prominent manufacturer of a variety of Stainless Steel Seamless & Welded Pipes, Tubes, U-Tubes & Corrugated Tubes in India. Not only do we manufacture, but we also store, supply, and export a huge collection of Stainless Steel 310 Pipes and Stainless Steel 310S Pipes.
310 / 310S Stainless Steel Seamless Pipes produced at Sunflex Metal Industries are extremely popular among various industries like Food Processing, Furnace equipment like burners, doors, fans, piping and recuperators, fluidized bed furnaces for manufacturing coal combustors, grids, piping, wind boxes, Ore Processing/Steel Plants, Petroleum Refining industries,  Power Generation industry, Sintering/Cement Plants etc.
Furthermore, our Stainless Steel 310 / 310S Welded Pipes are manufactured under the expert guidance of our experienced professionals who make sure to adhere to all the specific quality standards and techniques of the manufacturing process. Also, to meet the varying needs of our customers, we ensure that our customers are provided with the Stainless Steel 310/310S pipes and tubes in a varied range of quality, size, shape, etc. Call us now for a free, quick quote!
Stainless Steel 310 Seamless Pipe, Stainless Steel 310S Welded Pipes, SS Werkstoff NR. 1.4841 Pipes, 310 SS Hexagonal Pipe, SS TP310 – 310S Seamless Pipe, TP310 SS Welded Pipe Manufacturer in India
310/310S Pipes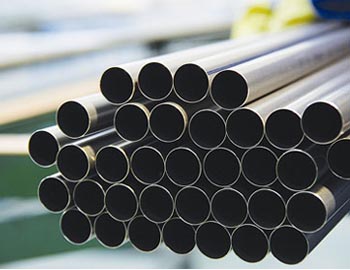 Stainless Steel 310/310S Pipes Specifications
Standard specifications for stainless steel 310/310S Pipes. If any specification is not mentioned here, you can contact us. We also manufacture and export any custom specification as per clients requirement.
| | |
| --- | --- |
| Specifications | ASTM A 312 ASME SA 312 / ASTM A 358 ASME SA 358 |
| Dimensions | ASTM, ASME, and API |
| SS Pipes | 1/2″ NB – 16″ NB |
| ERW Pipes | 1/2″ NB – 24″ NB |
| EFW Pipes | 6″ NB – 100″ NB |
| Size | 1/8″NB TO 30″NB IN |
| Specialized in | Large Diameter Size |
| Schedule | SCH20, SCH30, SCH40, STD, SCH80, XS, SCH60, SCH80, SCH120, SCH140, SCH160, XXS |
| Type | Seamless / ERW / Welded / Fabricated / LSAW Pipes |
| Form | Round, Square, Rectangular, Hydraulic Etc |
| Length | Single Random, Double Random & Cut Length |
| End | Plain End, Beveled End, Treaded |
Types of SS 310/310S Pipes
| | |
| --- | --- |
| 310 Seamless Pipe | GOST 20Ch23N18 Seamless Pipe |
| UNS S31008 Seamless Pipe | SS 310 ERW Pipe |
| Stainless Steel 310S EFW Pipe | 310 SS Welded Pipe |
| 310S Stainless Steel Welded Pipe | UNS S31000 Round Pipe |
| WERKSTOFF NR. 1.4841 Square Pipe | ASTM A312 TP 310 – 310S Stainless Steel Round Pipes |
| SS 310 Square Pipe | 310S Stainless Steel Square Pipe |
| UNS S31008 Rectangular Pipe | ASTM A312 TP 310S Stainless Steel Custom Pipes |
| 310 SS Custom Pipe | SS 310 Polished Pipe |
| 310S Stainless Steel Polished Pipe | WERKSTOFF NR. 1.4841 Decorative Pipe |
| UNS S31000 Thick Wall Pipe | 310S Decorative Pipe |
| SS 310 Thick Wall Pipe | 310S Thin Wall Pipe |
| Stainless Steel 310 Electropolished Pipe | ASTM A312 TP 310S Stainless Steel Electropolished Pipes |
Chemical Composition of SS 310/310S Seamless Pipes
Grade
C
Mn
Si
P
S
Cr
Mo
Ni
N
310 – 310S
min.
–
–
–
–
–
24.0
–
19.0
–
max.
0.25
2.0
1.50
0.045
0.030
26.0
22.0
–
SS 310/310S Welded Pipes Mechanical Properties
Grade
Tensile Strength (MPa) min
Yield Strength 0.2% Proof (MPa) min
Elongation (% in 50mm) min
Hardness
Rockwell B (HR B) max
Brinell (HB) max
310 – 310S
515
205
40
95
217
Physical Properties of Grade 310/310S Stainless Steel Pipes
Grade
Density (kg/m3)
Elastic Modulus (GPa)
Mean Coefficient of Thermal Expansion (m/m/0C)
Thermal Conductivity (W/m.K)
Specific Heat 0-1000C (J/kg.K)
Electrical Resistivity (n.m)
0-1000C
0-3150C
0-5380C
at 1000C
at 5000C
310 – 310S
7750
200
15.9
16.2
17.0
14.2
18.7
500
720
Stainless Steel 310/310S Pipes Equivalent Grades
Grade
UNS No
Old British
Euronorm
Swedish SS
Japanese JIS
BS
En
No
Name
310 – 310S
S31000/S31008

–

–
1.4841/1.4845
–
–
SUS 310 – 310S
ASTM A312 310/310S Steel Pipes Price List
Sunflex Metal Industries is one of the most competitive suppliers of pipes from India. Our prices for 310/310S Pipes are very competitive. Please click on the request a quote button or click here to request the updated price list and ready stock information along with your requirement. Sunflex Metal Industries maintains a stock of all standard items and can export them at the best price for 310/310S Pipes.
Steel 310/310S Seamless / Welded Pipes - Industries & Applications
Our pipes and tubes are used in a wide range of applications and various industries. Below are a few of them:
Gas Processing Industries
Petrochemical Industries
Power Generation Industries
Food Processing Industries
Chemical Industries
Oil & Gas Industries
Fertilizers Industries
Paper Industries
Stock Availability Stainless Steel 310/310S Pipes
We maintain huge inventories of all standard sizes and grades. Please send us your complete requirement and we will send you the availability with the best quote for 310/310S Pipes.
Click to send your requirement.
Why Buy SS 310/310S Pipes from Sunflex Metal Industries
Sunflex Metal Industries is a leading stockist, distributor and supplier of 310/310S Pipes from India. With more than three decades of experience, we understand the steel industry deeply. We have huge experience of supplying to all major industries across the world. Our team of dedicated experts with stringent quality policy ensures that we supply best-in-class products meeting and exceeding our client's expectations. Below are a few quick points about why buying from Sunflex Metal Industries will give you an undue advantage:
Huge inventory of all standard sizes and grades.
Distributors of all reputed origins and manufacturers.
Strict quality control policies and highly experienced team.
Strong logistics & delivery channels.
Modern Infrastructure with huge storage capacity.
An ISO 9000:2015 Certified Company.
Send us your Enquiry
Prominent Countries where we Export ASTM Stainless Steel 310/310S Pipes
Exporting Pipes to Singapore, Malaysia, Hongkong, Thailand, Indonesia, Taiwan. Other countires includes  Afghanistan, Albania, Andorra, Austria, Bahrain, Bangladesh, Bhutan, Brunei, Belarus, Belgium, Bulgaria, Cambodia, China, Cyprus, Croatia, Czech Republic, Denmark, Estonia, Egypt, Finland, France, Germany, Greece, Georgia, Hungary, Iceland, Ireland, Italy,  Iran, Iraq, Israel, Japan, Jordan, Kazakhstan, Kuwait, Kyrgyzstan, Lebanon, Latvia, Latin America, Liechtenstein, Lithuania, Luxembourg, Malta, Moldova, Monaco, Maldives, Mongolia, Myanmar (Burma), Nepal, North Korea, Netherlands, Norway, Oman, Poland, Portugal, Pakistan, Palestine, Philippines, Qatar, Russia, Romania, Russia, San Marino, Serbia and Montenegro, Slovakia, Slovenia, Spain, Sweden, Switzerland, Saudi Arabia,  South Korea, South Africa, Sri Lanka, Syria,  Tanzania, Tajikistan, Thailand, Turkey, Turkmenistan, Ukraine, United Kingdom, United Arab Emirates (UAE), Uzbekistan, Vietnam, Yemen.
We are one of the top:
Pipes exporters to Singapore
Pipes exporters to Malaysia
Pipes exporters to Hongkong
Pipes exporters to Thailand
Pipes exporters to Indonesia
Pipes exporters to Taiwan