Mild Steel
---
MS Plates
Most Prominent MS Plates Manufacturer, Hot Rolled Mild Steel Plates Supplier, Cold Rolled Mild Steel Plates, Mild Steel Coated Plates, Polished Mild Steel Plates Exporters in Mumbai, India
Sunflex Metal Industries is a well-known distributor of over one hundred different grades of Mild steel (MS) Plates in various forms, sizes and specifications. We have the largest and broad line of metal products. We have highly experienced staff to help our customer meet their quality products as per their needs. We offer an extensive delivery worldwide from our three warehouses in India.
Mild steel plates are very strong due to the presence of a low amount of carbon, which makes them desirable material for many applications.  Mild steel plates are very hard and malleable but due to poor corrosion resistance, it cannot be used without paint or protection to prevent it from rusting. Mild Steel Plates provides for optimum performance support and Corrosion resistance. It is available in different pattern choices like teardrop, diamond, lentils form and others. MS Plates are known around the world as a tread plate or floor plate has properties such as Corrosion resistance and Robustness.
Because of its high strength and malleability, Mild steel plates are the construction of pipelines and many other everyday products. Mild Steel can be easy to shape and welded making it a suitable material for producing a variety of products in the consumer industry. Mild Steel Chequered Plates are used in applications requiring heavy-duty flooring surface such as trench covers, platforms, conveyors, floors in factories.
Looking for the best quality Mild steel plates? Contact Sunflex Metal Industries today to know more and request a quote.
MS Plates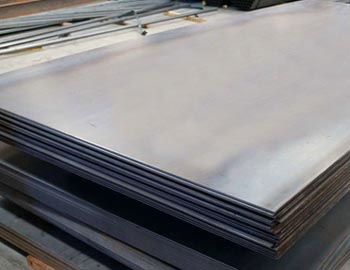 Mild Steel Plates Specifications
Standard specifications for MS Plates. If any specification is not mentioned here, you can contact us. We also manufacture and export any custom specification as per clients requirement.
| | |
| --- | --- |
| Thickness | 5 mm to 160 mm |
| Width | 820 mm to 4500 mm |
| Lenght | 2000 mm to 240000 mm |
| Material Grade | As per all National & International standards |
| | |
| --- | --- |
| Mild Steel Galvanized Plates | MS Perforated Plates |
| MS Chequered Plates | Mild Steel Hot Rolled Plates |
| Mild Steel Cold Rolled Plates | MS Diamond Plates |
Mild Steel Plates Price List
Sunflex Metal Industries is one of the most competitive suppliers of MS Plates from India. Our prices for MS Plates are very competitive. Please click on the request a quote button or click here to request the updated price list and ready stock information along with your requirement. Sunflex Metal Industries maintains a stock of all standard items and can export them at the best price for MS Plates.
MS Plates - Industries & Applications
Our Sheets & Plates are used in a wide range of applications and various industries. Below are a few of them:
Gas Processing Industries
Petrochemical Industries
Power Generation Industries
Food Processing Industries
Chemical Industries
Oil & Gas Industries
Fertilizers Industries
Paper Industries
Stock Availability Mild Steel Plates
We maintain huge inventories of all standard sizes and grades. Please send us your complete requirement and we will send you the availability with the best quote for MS Plates.
Click to send your requirement.
Why Buy MS Plates from Sunflex Metal Industries
Sunflex Metal Industries is a leading stockist, distributor and supplier of MS Plates from India. With more than three decades of experience, we understand the steel industry deeply. We have huge experience of supplying to all major industries across the world. Our team of dedicated experts with stringent quality policy ensures that we supply best-in-class products meeting and exceeding our client's expectations. Below are a few quick points about why buying from Sunflex Metal Industries will give you an undue advantage:
Huge inventory of all standard sizes and grades.
Distributors of all reputed origins and manufacturers.
Strict quality control policies and highly experienced team.
Strong logistics & delivery channels.
Modern Infrastructure with huge storage capacity.
An ISO 9000:2015 Certified Company.
Send us your Enquiry
Prominent Countries where we Export MS Plates
Exporting MS Plates to Singapore, Malaysia, Hongkong, Thailand, Indonesia, Taiwan. Other countries includes  Afghanistan, Albania, Andorra, Austria, Bahrain, Bangladesh, Bhutan, Brunei, Belarus, Belgium, Bulgaria, Cambodia, China, Cyprus, Croatia, Czech Republic, Denmark, Estonia, Egypt, Finland, France, Germany, Greece, Georgia, Hungary, Iceland, Ireland, Italy,  Iran, Iraq, Israel, Japan, Jordan, Kazakhstan, Kuwait, Kyrgyzstan, Lebanon, Latvia, Latin America, Liechtenstein, Lithuania, Luxembourg, Malta, Moldova, Monaco, Maldives, Mongolia, Myanmar (Burma), Nepal, North Korea, Netherlands, Norway, Oman, Poland, Portugal, Pakistan, Palestine, Philippines, Qatar, Russia, Romania, Russia, San Marino, Serbia and Montenegro, Slovakia, Slovenia, Spain, Sweden, Switzerland, Saudi Arabia,  South Korea, South Africa, Sri Lanka, Syria,  Tanzania, Tajikistan, Thailand, Turkey, Turkmenistan, Ukraine, United Kingdom, United Arab Emirates (UAE), Uzbekistan, Vietnam, Yemen.
We are one of the top:
MS Plates exporters to Singapore
MS Plates exporters to Malaysia
MS Plates exporters to Hongkong
MS Plates exporters to Thailand
MS Plates exporters to Indonesia
MS Plates exporters to Taiwan