---
Corten

Plates
Corten Steel Plates, Corten Plates Suppliers, Corten Abrasion Resistant Steel Plates Manufacturer, Mumbai, India 
Corten Wear Resistant Steel Plates Stockist, Corten Wear Plates, Corten Steel Plates, Corten Hot Rolled / Annealing Steel Plate Dealer & Supplier 
Sunflex Metal Industries is your one-stop source for all types of Corten Plates that features high durability, corrosion resistance, and optimum quality. These Corten steel plates are manufactured using high-grade raw materials with the latest technology.
An ISO 9001:2008 Certified Company, we are a leading stockholder, supplier, and exporter of Corten Steel Plate. Corten Resistant Plates are cut to your specifications and supplied with a complete set of mill test reports. Custom length and width can be made available.  We have stocked Corten Steel Plate in all sizes, to cater to immediate delivery and urgent needs of the clients.
Cor-ten is recommended for use where high structural strength is needed and where maintenance is difficult. It can be used to construct lighter structures utilizing well-established design practices but with the advantage of improved weathering properties. It's widely used in various applications like Bridges, tanks and containers, exhaust systems, fire pits, and art sculptures. Please contact us today to speak with our sales personnel or request a free quote immediately!
Corten Plates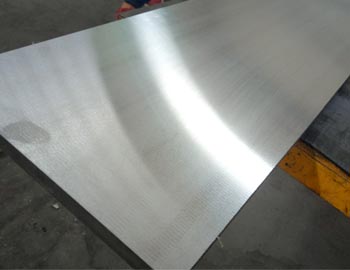 Corten Plates Specifications
Standard specifications for Corten Plates. If any specification is not mentioned here, you can contact us. We also manufacture and export any custom specification as per clients requirement.
| | |
| --- | --- |
| Specifications | ASTM A588, A242 |
| Standard | AISI, ASTM, BS, DIN, GB, JIS |
| Material | Corten A, Corten B, S355J0WP, S355J0W, S355J2W,  A588 Grade A, A588 Grade B, A588 Grade C, A242 Type 1, SA588 Grade A, SA588 Grade B, SA588 Grade C |
| Thickness | 0.3-500mm |
| Width | 10-3500mm |
| Length | 2m, 2.44m, 3m, 6m, 8m, 12m, or rolled, etc |
| Surface | Black painted, PE coated, Galvanized, color coated, anti-rust varnished, anti-rust oiled, checkered, etc |
| | |
| --- | --- |
| Corten Steel Plates | Corten Steel Chequered Plates |
| Corten Steel Polished Plates | Corten Hot Rolled Plates |
| Corten Steel Cold Rolled Plates | Corten Steel Class 1 Plates |
Corten Steel Plates Forms & Availability
| | |
| --- | --- |
| ASTM A588 Grade A Corten Plates | Corten A588 Grade B Plates |
| ASTM A588 Corten Grade C Plates | ASTM A242 Type 1 Corten Plates |
Sunflex Metal Industries is one of the most competitive suppliers of Corten Plates from India. Our prices for Corten Plates are very competitive. Please click on the request a quote button or click here to request the updated price list and ready stock information along with your requirement. Sunflex Metal Industries maintains a stock of all standard items and can export them at the best price for Corten Plates.
Steel Corten Plates - Industries & Applications
Our Corten Plates and tubes are used in a wide range of applications and various industries. Below are a few of them:
Gas Processing Industries
Petrochemical Industries
Power Generation Industries
Food Processing Industries
Chemical Industries
Oil & Gas Industries
Fertilizers Industries
Paper Industries
Stock Availability Corten Plates
We maintain huge inventories of all standard sizes and grades. Please send us your complete requirement and we will send you the availability with the best quote for Corten Plates.
Click to send your requirement.
Why Buy Corten Plates from Sunflex Metal Industries
Sunflex Metal Industries is a leading stockist, distributor and supplier of Corten Plates from India. With more than three decades of experience, we understand the steel industry deeply. We have huge experience of supplying to all major industries across the world. Our team of dedicated experts with stringent quality policy ensures that we supply best-in-class products meeting and exceeding our client's expectations. Below are a few quick points about why buying from Sunflex Metal Industries will give you an undue advantage:
Huge inventory of all standard sizes and grades.
Distributors of all reputed origins and manufacturers.
Strict quality control policies and highly experienced team.
Strong logistics & delivery channels.
Modern Infrastructure with huge storage capacity.
An ISO 9000:2015 Certified Company.
Prominent Countries where we Export Corten Plates
Exporting Corten Plates to Singapore, Malaysia, Hongkong, Thailand, Indonesia, Taiwan. Other countries includes  Afghanistan, Albania, Andorra, Austria, Bahrain, Bangladesh, Bhutan, Brunei, Belarus, Belgium, Bulgaria, Cambodia, China, Cyprus, Croatia, Czech Republic, Denmark, Estonia, Egypt, Finland, France, Germany, Greece, Georgia, Hungary, Iceland, Ireland, Italy,  Iran, Iraq, Israel, Japan, Jordan, Kazakhstan, Kuwait, Kyrgyzstan, Lebanon, Latvia, Latin America, Liechtenstein, Lithuania, Luxembourg, Malta, Moldova, Monaco, Maldives, Mongolia, Myanmar (Burma), Nepal, North Korea, Netherlands, Norway, Oman, Poland, Portugal, Pakistan, Palestine, Philippines, Qatar, Russia, Romania, Russia, San Marino, Serbia and Montenegro, Slovakia, Slovenia, Spain, Sweden, Switzerland, Saudi Arabia,  South Korea, South Africa, Sri Lanka, Syria,  Tanzania, Tajikistan, Thailand, Turkey, Turkmenistan, Ukraine, United Kingdom, United Arab Emirates (UAE), Uzbekistan, Vietnam, Yemen.
We are one of the top:
Corten Plates exporters to Singapore
Corten Plates exporters to Malaysia
Corten Plates exporters to Hongkong
Corten Plates exporters to Thailand
Corten Plates exporters to Indonesia
Corten Plates exporters to Taiwan